'Pilates with Jen is better than a bottle of wine' – Kirsty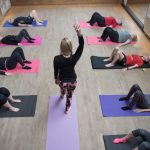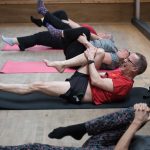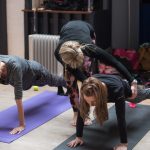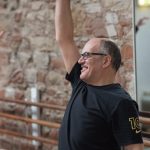 If you spend most of your days sitting, on a computer/laptop, on your phone, leaning over a desk, looking after children, drive a lot… then you NEED Pilates in your life.
What is Pilates?
Pilates is a mat based class that will improve posture and flexibility, strengthen, tone, relax the body and also helps with physical and mental balance. Pilates can also help relieve back pain, neck pain, hip pain.
When you say Pilates to some people you can get a few different responses… 'What is that?', 'Oh, that's like Yoga!', 'that's just lying on a mat stretching', 'that's for old people', 'that's a woman's class', 'I tried that once, didn't like it, it wasn't hard enough'.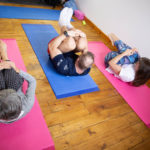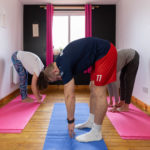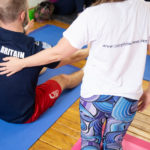 'I enjoyed all of the classes immensely, it was something I looked forward to every week as Jen makes it fun and very personal.' – Aoife
I teach Pilates a bit differently. The body is built for movement and we generally in life don't move enough. I combine my knowledge and experience of working with lots of different people to create a Pilates class that's 'fun' – their words, not just mine. There are similarities between Pilates and Yoga – they are both done on a mat and connect body, mind and breath but for me as a teacher of both, Pilates is more about bringing in control throughout the movement and Yoga is about letting go of that control and easing in to the movement.
'I fully recommend Jen whether it's your mind, body or both that you want to work on. And on top of her skills she's also a caring, encouraging, inspiring and empathetic woman.' – Allison
During Covid-19 all classes are online. Please click here for booking link
£10 drop in, £90 10 class pass (valid for 14 weeks, booking essential, 24hr cancellation applies)