I am a savoury snack girl! Crisps are my vice… and I have been drifting back to snacking on them (or having them instead of a meal) a little too often just now. In my mission to help improve my gut health, I know that regularly snacking on crisps isn't good for my health… and I wanted to find an alternative that ticks the boxes of fiber-filled, low toxins, not ultra-processed, and gut-friendly. 
Enter the roasted chickpea!!
I used to make these years ago, but like so many things, I forgot about them. 
I made 3 different flavours to see which was my favourite…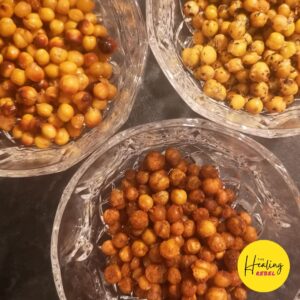 Roasted Chickpeas Fiber Points 3+
You do need to use cooked chickpeas; the easiest is from a can (because they are already cooked), but I don't like the flavour from a can, so I use dried chickpeas, bulk cook and freeze them.  To make the 3 different flavours, I used 250g of chickpeas and split them. If you are using canned, start with 1 can and see how they go. 
Salt and Vinegar
Chickpeas
Vinegar (I used apple cider, but you can use any)
Salt
Olive oil
Put the chickpeas into a pot, and use enough vinegar to cover them, then bring to a gentle simmer and keep an eye on them while the vinegar reduces. Once it's almost completely reduced, take it off the heat. Drizzle some olive oil over them, just enough to lightly coat them so they go crispy (I used a tablespoon of oil the first time and that was too much, so go light).  Sprinkle over the salt. 
Chilli
Chickpeas
Chilli/paprika/cayenne pepper (you could use 1 or a mix)
Oilve oil
In a bowl, drizzle some olive oil (like before, go light) and sprinkle the chilli powder and mix until all the chickpeas are coated.  
Herby
Chickpeas
Herbs of your choice (dried are best for this recipe) – oregano, basil, sage, coriander leaf, thyme, chopped rosemary… whatever herbs you like and as many different varieties (1 fiber point for each different herb).
In a bowl, drizzle some olive oil (like before, go light) and sprinkle the hersbs and mix until all the chickpeas are coated. 
Roasting process:
Preheat your oven to about 180c. lay out baking paper on a tray (I used 3 separate ones so they didn't mix, if you are only making one flavour, then you just need 1). Lay the chickpeas out in one layer (so they are not stacked ontop of each other. Pop into the over for 15mins, then check and turn, put in for another 10-20mins depending on how they are looking and feeling. The longer they are in, the crispier they will get (but the salt and vinegar ones will start to lose flavour if they are in too long.  
Once you take them out the oven, allow them to cool for about 10-15mins then they are ready to eat. 
Let me know what flavours you make!