'Pilates with Jen is better than a bottle of wine' – Kirsty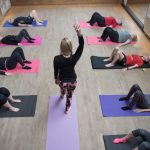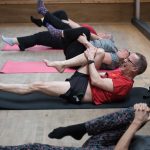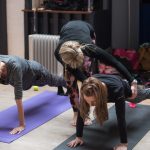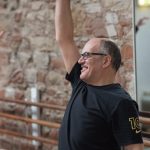 If you spend most of your days sitting, on a computer/laptop, on your phone, leaning over a desk, looking after children, drive a lot… then you NEED Pilates in your life.
What is Pilates?
Pilates is a mat based class that will improve posture and flexibility, strengthen, tone, relax the body and also helps with physical and mental balance. Pilates can also help relieve back pain, neck pain, hip pain.
When you say Pilates to some people you can get a few different responses… 'What is that?', 'Oh, that's like Yoga!', 'that's just lying on a mat stretching', 'that's for old people', 'that's a woman's class', 'I tried that once, didn't like it, it wasn't hard enough'.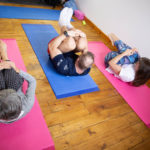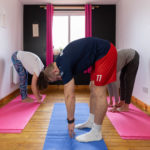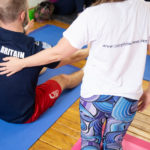 'I enjoyed all of the classes immensely, it was something I looked forward to every week as Jen makes it fun and very personal.' – Aoife
I teach Pilates a bit differently. The body is built for movement and we generally in life don't move enough. I combine my knowledge and experience of working with lots of different people to create a Pilates class that's 'fun' – their words, not just mine. There are similarities between Pilates and Yoga – they are both done on a mat and connect body, mind and breath but for me as a teacher of both, Pilates is more about bringing in control throughout the movement and Yoga is about letting go of that control and easing in to the movement.
'I fully recommend Jen whether it's your mind, body or both that you want to work on. And on top of her skills she's also a caring, encouraging, inspiring and empathetic woman.' – Allison
During Covid-19 all classes are online. Please click here for booking link
£10 drop in, £90 10 class pass (valid for 14 weeks, booking essential, 24hr cancellation applies)
6 Week Pilates Fundamentals Course Online
Improves posture,

Improves strength,

Eases back pain,

Can help with sciatica,

Improves flexibility,

Helps improve your ability in other activities (all the top athletes included Pilates in their training programmes),

Builds stability around the joints,

Relaxes the body,

Calms the mind,

Improves concentration,

Improves sleep quality,
And when done correctly is safe for almost everyone to do, most exercises can be adapted even for people that can't lie on the floor. 
I sent a survey out to my class to ask what they liked best about the class… The top results:
Teacher (that's me

Jen Wilson

)
The chat – class should be fun, life outside is serious enough thanks
The other participants – we are a very welcoming family, even online
The variety of exercises – that should be included somewhere!
I also asked them what would they say to encourage someone to come along…
'How amazing you feel. Especially Saturday morning after a tough week at work, any tension headache clears and it's a great start to the weekend.'
'

Jen is the best Pilates teacher I've ever had'
'You get a great sleep afterwards'
'

A class good for body and soul'
'Jen is amazing!! Best teacher I've ever come across'
'Such a warm and welcoming class suitable for all bodies. Super friendly bunch attend.'
'Gentle exercises to improve your fitness levels.'
'Relaxed, friendly, positive Jen's knowledge is extensive and can always alter the class to suit anybody's ability!'
'Great teacher, patient and understanding. Adapts class to needs on the day. Friendly environment. Lovely class mates.'
'Positive vibes. Jen is flexible in working with each individual to suit their needs. Relaxing environment'
'It is a very welcoming and friendly group of people.'
'to get fit flexible and actually start to see visible results if you keep with it on a regular basis!'
'It's friendly, not too advanced, relaxed and enjoyable.'
'It's friendly. You work to your abilities'
'It's as comfortable as being at home and with no judgement. It's a very relaxing and friendly environment along with many different exercises' 
'Friendly, bespoke Pilates, tailored to suit all needs and abilities.'
'I love the way you explain things, it has really helped me improve the Pilates exercises I was given by the physio' 
The online course is broken down in to mini workshops:
Module 1: Feet mobility, foot placement, muscle activation, breath, neutral spine, pelvic floor, core engagement, basic set up standing, lying on your back, lying on your side, lying on your stomach, kneeling table top.
Module 2-4: Introduction and different options and adaptations of 20 of the fundamental exercises I commonly use in class
Module 5-6: Basic beginners class 
Investment £65 * Use the voucher code SELFSTUDY for the £40 discount if you don't want access to the live Zoom classes. 
* 6 weeks online modules to watch (watch the videos anytime)
* Lifetime access to the recorded sessions of each of the fundamentals course classes 
* A selection of pre-recorded Pilates sessions to do anytime
* Unlimited access to any of my live online timetabled classes (Pilates & Yoga) for 6 weeks from sign up date (unless gifting then we can arrange a start date or you choose the self study option)
* Email support throughout the 6 weeks to answer any questions
* Pilates fundamentals ebook 
If you wish to direct transfer funds via the bank, please contact me jen@iamjenwilson.com for bank account details.
Got a question before you book? Ask here