Over the last few years, I have got serious about doing everything I can to support my gut health.
You may or may not be aware that I have Crohn's disease which is an inflammatory condition of the bowel and early 2022 I got very sick, ended up in the hospital, on very potent antibiotics, and had so much inflammation in my body that I couldn't even stand up without support or lift my arms to wash or dress. I was in a bad way!
In hindsight and through research, I believe that flare was a reaction to having covid over the Christmas period.
Gut health research has come on leaps and bounds over the last couple of years.
It's now well understood that fiber places a massive role in improving gut health and supporting your gut microbiome (gut bacteria).
It's also known the important role of those microbes in your immune function, hormone balance, food cravings, sleep, energy and mood. Basically everything,
The best way to support the microbes is by a diverse range of fibers. Getting a diverse range means eating the rainbow, adding herbs and spices, nuts, seeds and whole grains into your diet. And looking to get 30 different sources each week.
It can be as simple as adding a variety of dried herbs to your meals and mixing nuts and seeds (like the granola recipe I shared last month).
Eating locally and seasonally is also beneficial, not just for your gut environment, but also for the global environment!
Now would be the perfect time to start planting some seeds to grow your own!
I write a column for Scotland Grows Magazine (which at the moment is free). It's a hugely useful resource and the only digital magazine for Scotland's climate for growing plants and veggies!! Check that out here https://scotlandgrowsmagazine….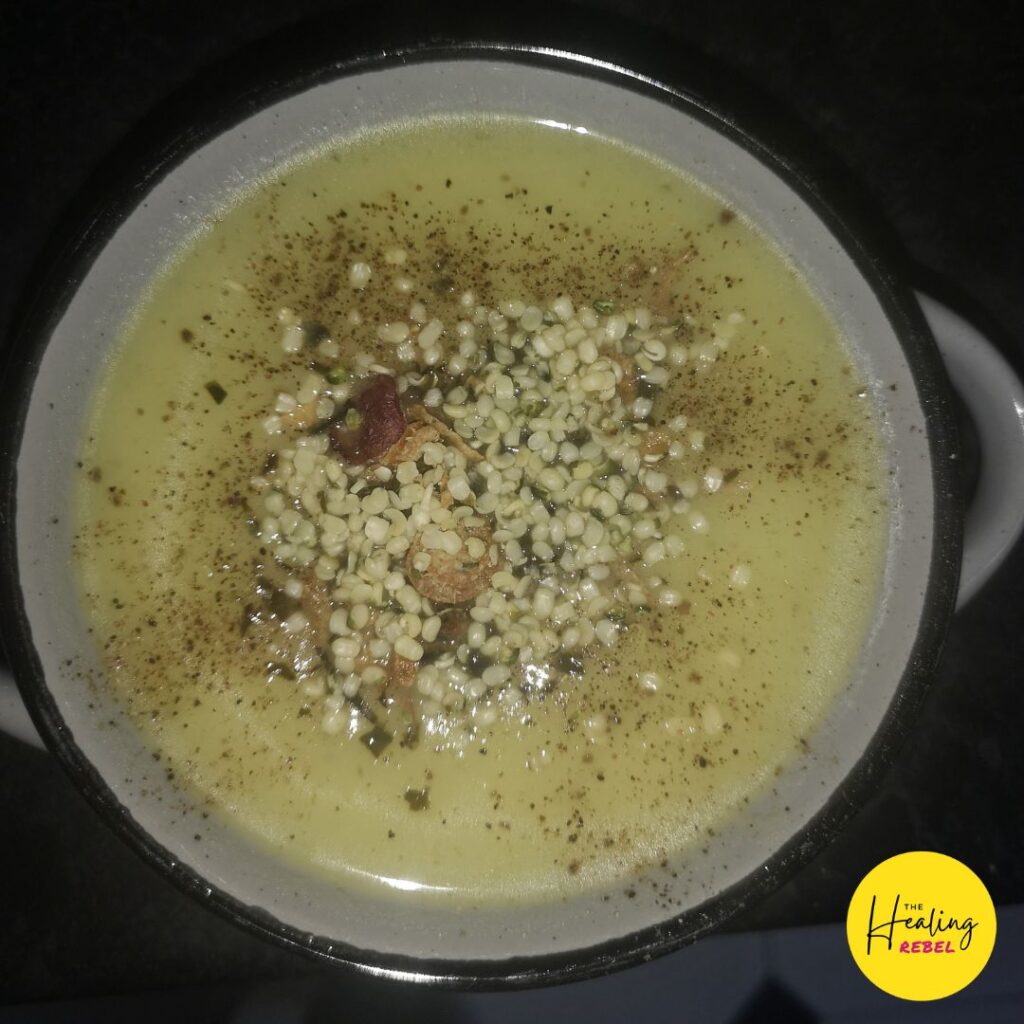 Thai Lentil Soup Fibre Points 7+
4 small or 2 large onions finely chopped and sautéed
2 large spoons of Thai green curry paste
2 cans of green lentils or 2 cups soaked overnight if using dry lentils
Water to cover ingredients (with approx. 1 inch above – keep an eye on the level as the lentils love to soak up the water)
3 teaspoons of bullion or 2 stock cubes
Chop everything that needs to be chopped, put it all in a slow cooker, put it on high and leave for 1 hrs or low and leave for 2 hrs to get the lentils cooked.
If making in a pot on the stove, chop, and put everything in the pot. Bring to a boil then simmer for approx 30 mins until the lentils are cooked..
Blend till smooth and add to a can of coconut milk.
This is your soup base.
Then, options to add:
Veggies – peppers, carrot, broccoli, broccolini, baby sweet corn, runner beans, mangetout
Prawns
Chicken
Continue to cook until the veg, prawns or chicken is cooked. The veg can keep a crunch if you desire.
Nice served with some rice or rice noodles if you want this as your main meal.