Hello,
Cosy in with a warming soup…
Not only can soup be packed with fiber and nutrients, but because you blend it, it can be much easier to digest.
If, like me, you can be sensitive to tomatoes, I find when they are cooked, I am less sensitive, but also removing the skins – so either buy peeled tomatoes or if you get plum tomatoes in a can, they are easier to get the skin off.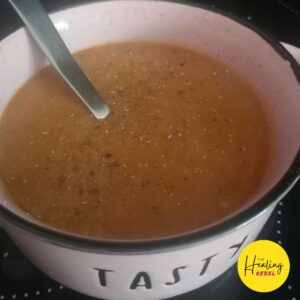 Tomato & Lentil Soup Fibre Points 10+
225g red lentils
1 tin tomatoes
1 carrot
1 onion
8 cups cold water
1-2 tbsp tomato puree
3 tsp veg bullion or 2 veg stock cubes
4 cloves garlic
2 sticks celery
1 tbsp: basil & oregano
3 bay leaves (leave whole to remove at end)
1/2 tspn black pepper
Cayenne Pepper – depending on how hot you like it.
Chop everything that needs to be chopped, put it all in a slow cooker, put it on high and leave for 3 hrs or low and leave for 5-6 hrs.
If making in a pot on the stove, chop, and put everything in the pot. Bring to boil, then simmer for 1hr.
Remove bay leaves, blend until smooth and serve with some delicious sourdough.