I hope you are well this Wednesday…
This may or may not be something you want to hear, but we are entering the last quarter of the year!
I find this is a good time of the year, holidays are mostly done, to do a body and mind reset.
My free 5-day body and mind reset challenge could just be what you are looking for…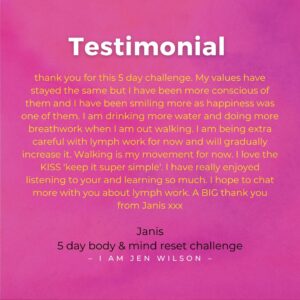 Day 1 We review your values… This is something I talk about in my book 9 Rules to Sort Your Shit. Understanding my values was a game changer in decision-making and feeling comfortable within myself
Day 2 Learning to properly hydrate your body… Tap water isn't going to cut it if you want to hydrate properly
Day 3 Breathe… learn different techniques of breathing (who knew it wasn't just a case of inhale, exhale… if you have a habit of breathing only into your chest, or if you experience anxiety a lot, you need day 3!
Day 4 An introduction to lymphatic drainage… If you have been following me for a while, you know that I talk about the importance of this a lot!
Day 5 Movement… Motion is lotion… if you are not moving all your joints regularly, you will suffer…
Sound like something you need to kickstart your journey?
Join me here >>> https://iamjenwilson.thrivecar…