I hope you are enjoying these recipes…
This week is healthy hot chocolate – I know it's not really 'hot chocolate season'… BUT if you love chocolate, it doesn't have a season!!
I serve a version of this at my mobility & sound bath events (April dates are on sale now: Sat 29th 2pm & Sun 30th 10am www.iamjenwilson.com/events to book).
Cacao or Cocoa… what's the difference?
Cacao is the more nutrient dense of the two because it's roasted at much lower temperatures to preserve the nutrients.
You can read more about cacao here https://www.webmd.com/diet/health-benefits-cacao-powder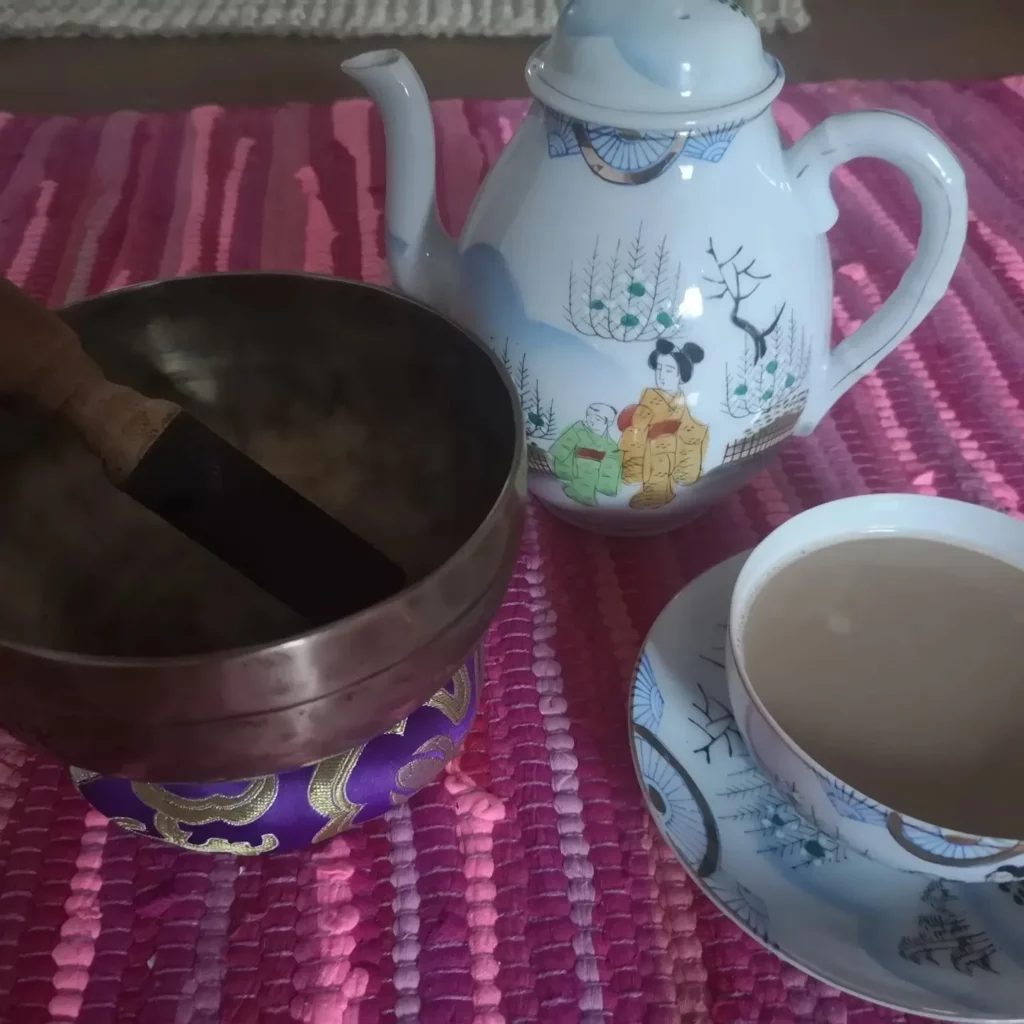 The basic recipe would be 2 fiber points:
20g shaved raw cacao. If you are using powder, start with a level tablespoon and see how it tastes
1 teaspoon or honey or maple syrup – if you use powder, I would mix the cacao with it to make a paste. If you use shaved raw cacao put your sweetness in your cup and the cacao in your pot. Adjust how much you use in future depending on your taste.
300ml of water OR any milk of your choice – using milk will give you a lighter taste
Optional extras to boost your fiber points
These optional extras boost the diversity to feed your gut microbes (remember we aim for 30 different sources a week!).
In addition to that, some basic benefits you may get from the herbs:

Cinnamon bark (or powder) – Warming spices (great if you feel cold all the time), may help stabilise blood sugars, may have anti-inflammatory benefits, may help with brain function, may help with heart health.
Nutmeg is thought to be a mild sedative to help promote relaxation and reduce pain as well as some of the brain health benefits of cinnamon.
Ashwagandha powder – is an adaptogenic herb used a lot in Ayurveda (the sister science of Yoga) which means it can help the body adapt to stress. This herb can also help lower inflammation, help with anxiety, improve immune function, can help stabilise blood sugar and is thought to have anti-cancer properties.
Shatavari powder – another Ayurvedic herb that is used to help support female reproductive health, can help boost the immune system, and can help with digestion.
Maca root powder – is a Peruvian 'superfood' which is rich in nutrients. It can help with energy levels, and mood, help both male and female reproductive health, helps regulate hormones, and can help with bone health due to it being rich in calcium and magnesium.
Reishi Mushroom powder – can boost the immune system, reduce inflammation, can support liver function, can support blood pressure, can help manage stress and anxiety and improve sleep.
Turkey Tail powder – immune boosting, helps fight cancer, supports gut health by feeding the good microbes, can reduce inflammation and supports heart health.
Lions Mane powder – great for brain health, supports the immune system and digestion, and like the other mushrooms, is believed to have anti-cancer properties.
Tulsi leaf – another Ayurvedic herb that has excellent antioxidant properties, that help reduce inflammation, boost the immune system, improve respiratory health, help reduce anxiety and stress, and support liver function and oral health.

IMPORTANT
It's worth pointing out here that everyone has their own unique experiences with herbs. If your gut instinct is that it's not a herb for you, don't use it. If you are on any medications, please check with a health professional before using them. If you are new to any of these herbs, introduce 1 at a time and see how you respond over a few days/weeks before adding more. Buy organic where you can.
These are the ingredients I use in this recipe and where I buy them from (Amazon links are associate links so I get pennies back if you buy them)
ceremonial cacao https://amzn.to/3K8Cf66
tulsi leaf https://amzn.to/3z7BAeY
cinnamon sticks https://amzn.to/3lLPAbg
maca root from www.vivolife.co.uk
ashwagandha https://amzn.to/3KcAqVG
shatavari https://amzn.to/3TM4dYE
lions mane & turkey tail www.antioxi.co.uk
reishi https://amzn.to/3Zom7BU
Make sure you are subscribed to my page and follow me on:
www.instagram.com/IAM.jenwilso…
check out ways to work with me www.iamjenwilson.com