Happy Saturday
Kitchari is something I was introduced to when I started studying Ayurveda (the healing sister science of Yoga).
In Ayurveda, this meal is used to detox, reset, and heal the gut – and you know how that is a big focus for me these days.
This recipe is really easy, I drop it all into my slow cooker because I don't even need to watch over it.
In the slow cooker, about 4 hours on slow, on the stove, probably about 40mins on a simmer.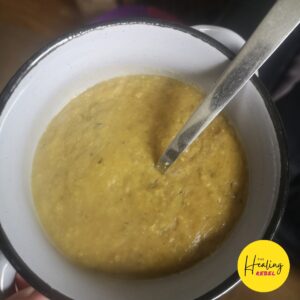 Lentil Dahl Fiber Points 13+
1 cup mung dahl lentils (these are the best ones to not cause a gassy tummy)
1 bunch spring onions
2 cloves garlic
1 tbsp garam masala
1 tbsp cumin powder
1 tbsp cumin seeds
1 tbsp ground coriander
1 tbsp turmeric
¼ tsp black pepper
1 tsp asafoetida
1 tbsp fenugreek
1 tbsp coconut oil or olive oil
500 ml veg stock
1 thumb of grated ginger
Finely chop spring onions and garlic. Heat oil in a pan, add spring onion and all dry spices to bring out the fragrance of the spice (add more oil if needed) then add the garlic. In a slow cooker add the lentils, stock and all the spices. Cook on high 3-4 hrs or low 6-8 hrs. The lentils should be soft, almost broken down. Serve with rice or wraps. This will make 4 – 6 serves and can be frozen