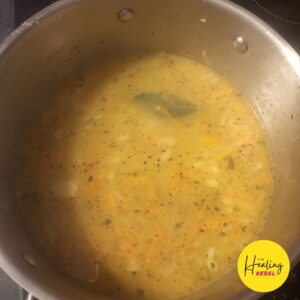 Autumn Veg Soup Fiber Points 7+ (the more variety of veg and herbs, the more fiber points you get.
This really simple soup reminds me of my grandma (who made the best soup!)
3 medium carrots
1 onion
4 stems of celery
1 large potato
1/4 cup of rice
1/2 cup of lentils
2 bay leaves (optional)
1 tbsp oregano
1 tbsp basil
1 tbsp sage
3 heaped spoons bouillion or 3 stock cubes
For speed, use a food processor and the grating wheel, but if you like to either chop or grate the veg – everyone likes the consistency of their soup differently, so do what suits you best.
In a large pot, heat some oil, then sweat your veg (this helps soften and bring out the flavours), add the bouillon (or stock cubes) and mix through the sweating veg – this will further bring out the flavours.
Then add herbs and mix the rice and lentils with about 1.5 litres of boiling water.
Bring it to the boil, then reduce to a simmer for around 30mins.
Alternatively, chop the veg, chuck everything in a pot, bring to a boil then simmer for about 45mins (that's the faster way, but I think sweating out really enhances the flavour).
Remember to remove the bay leaves once the soup is cooked, they are a bit on the tough side.