Moving a lot of your body a little is much better for your overall health than moving a little of your body a lot!
If you spend lots of your day sitting, whether it's at a laptop or on a sofa, if you are on your phone a lot, you really need to get your body moving.
Sitting is the new smoking when it comes to damaging your health. Sedentary living is a killer (I know, I am full of joyful news.
But I want to help you be healthy and well. It's what I Am Jen Wilson, The Healing Rebel is all about. 
Who would have ever thought that prioritising your health would be a rebellious act?! 
But that's the world we seem to be living in; sit and binge watch box sets of shows, or scroll on your phone for hours… NOT GOOD FOR YOUR MENTAL OR PHYSICAL HEALTH.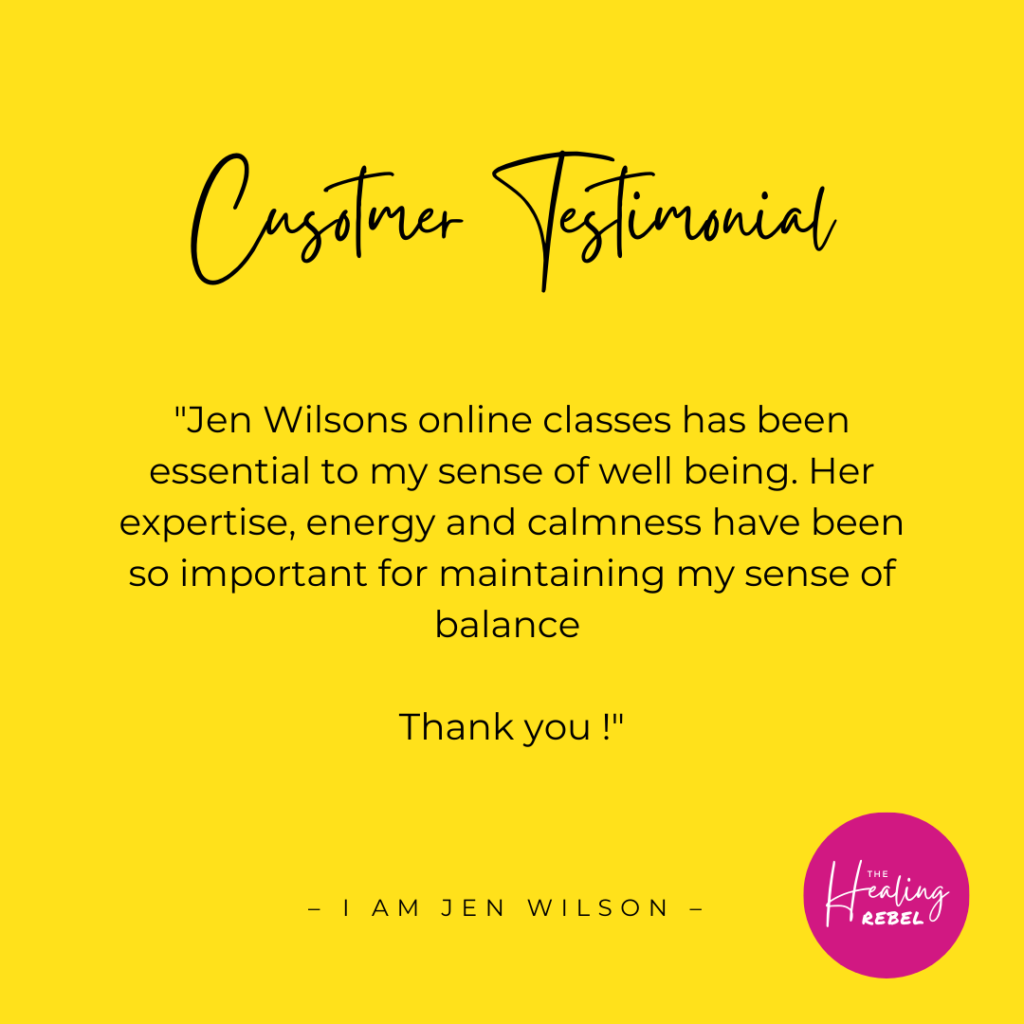 All the joints in your body move. Current thinking is there are 360 joints in the human adult body… 
How many of them do you move in a day? 

How many of them do you experience pain, discomfort or stiffness in? 

Motion is lotion. 

Move a lot of your body a little every day. 
It can start when you are in bed before you get up. Look at a dog or a cat when they awaken. They have a big stretch before they go anywhere.
Us humans tend to jump up with the alarm, feet hit the floor and off you go. 
Can you spend a few moments stretching and wiggling around before you get out of bed? – I know it's not possible if you have a partner that gets up later than you, but as you sit up, can you start to free flow into your body and move it as your feet head towards the ground? 
I have some useful movement videos on my YouTube channel that are absolutely FREE www.youtube.com/iamjenwilson 
I have regular classes on my timetable:
I have set a new, easier pricing structure:
1 class £10

Up to 3 classes in 1 week £15

Monthly subscription £40 for up to 3 classes per week plus exclusive recordings on my bi-monthly down week. << This one is by far the best deal over a year!
Classes are all online, and from 1st March there will be 3 spaces opened in my beautiful home studio in Springburn, North Glasgow. Booking will be essential for the home studio spaces (they are included in any of the payment options).