A healthy chocolate that tastes good?!
I know that not everyone likes the bitterness of dark chocolate, but this version takes some of that bitterness away!
Give it a go and let me know what you think…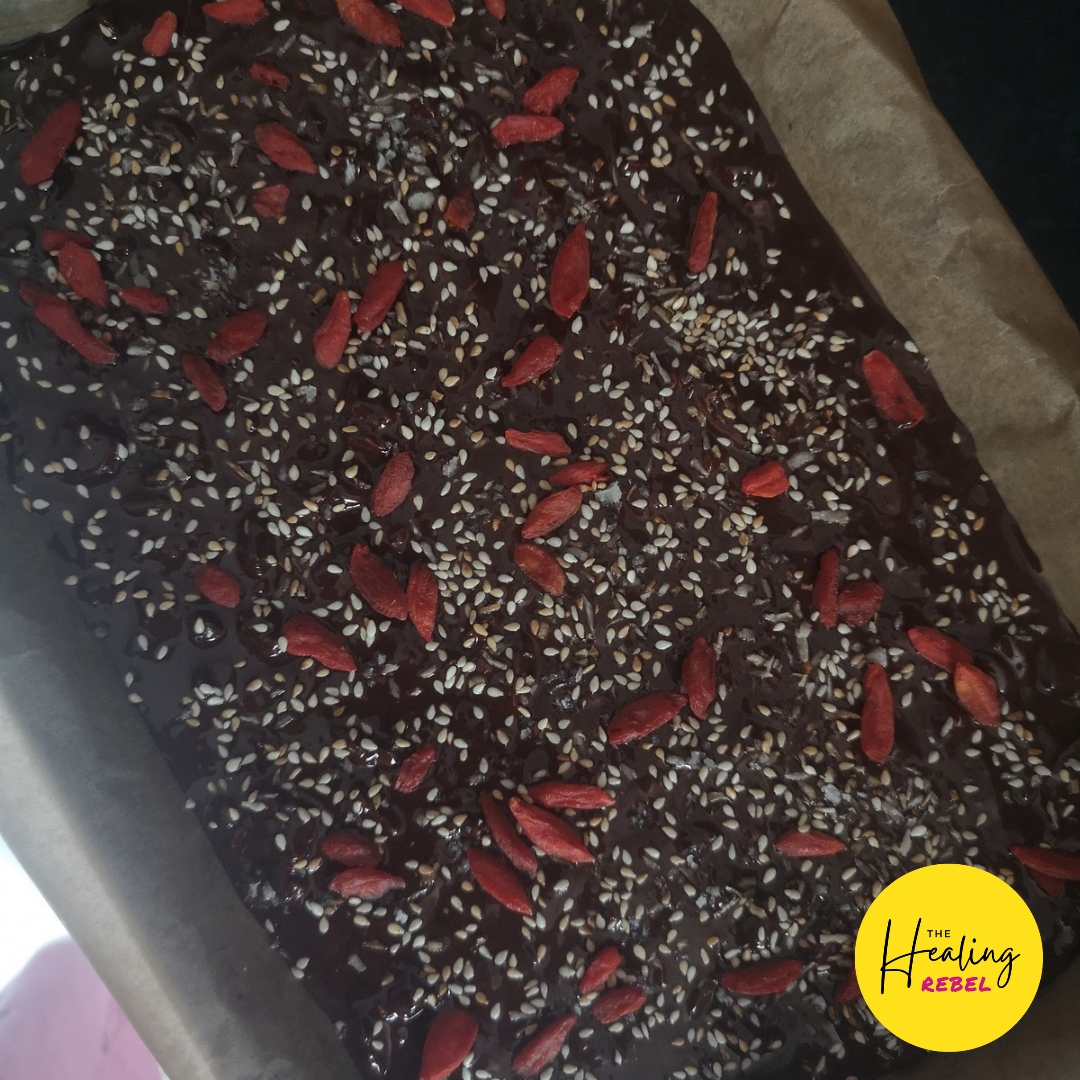 Probiotic Chocolate Fiber Points 8+
Oh yes, chocolate that's good for your gut microbes!!
250-300g 80% dark chocolate
2 tbsp tahini
½ cup coconut oil
100g mixed raw nuts (any of your preference)
50g mixed seeds (any of your preference)
¼ cup maple syrup or honey
1-2 tbsp toasted coconut (for topping)
1-2 tbsp toasted sesame seeds (for topping)
Sea salt (optional topping)
Goji berries (optional topping)
What you put into the chocolate and on it is totally up to you, keep in mind the more variety, the more fiber points!
Melt the chocolate either in a glass bowl over boiling water or in the microwave. I can't advise how to melt in the microwave, because I don't own one…
Once the chocolate melts, add the coconut oil to melt, the tahini and maple syrup/honey.
Then, add your nuts and seeds and mix well. If you feel like the chocolate-to-nut ratio is off and you want to add more nuts/seeds, go wild. It's for you to eat!
Line a baking tray with greaseproof paper. The bigger the tray, the thinner your chocolate – go with your preference.
Pour the mix into your baking tray, and sprinkle on your toppings.
Then, place in the fridge or freezer for a few hours to solidify.
When you are happy you have a solid block you can break up into chunks and then put in air-tight, fridge-safe containers to store.
Want these recipes dropped straight to your inbox? Sign up for my mailing list, you can find the sign up form at the bottom of my About Me page.