I am often asked is 'is Pilates or Yoga better for me?'
My answer is always: It depends on what you are looking for, what you need, and what you will enjoy, therefore, do…
And the way I teach is different to how other people teach. So making sure you have the right teacher for YOU is also important.
Generally, I think, movement is movement. Please pay attention to your body, listen to it's feedback. If you are not feeling good at the end of the session then is it the right type of exercise for you?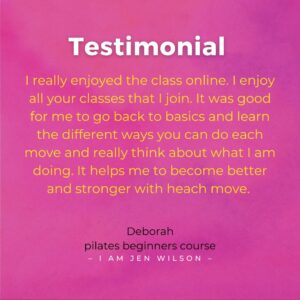 Pilates
The main focus of Pilates is stabilisation, control, and building strength while connecting to your breath. I teach it in a layered approach, so get the movement 1st, then layer in the breath once you don't need to concentrate so much on the move. You are connecting mind, body and breath.
Yoga
You are also connecting mind, body and breath. The way I teach Yoga (and there are hundreds of different ways) is about learning to relax and release unnecessary tension. The Wednesday morning class is about sitting/lying, moving with your breath, exploring what's going on in your body then finishing with a guided body scan (Yoga Nidra) meditation.
How I teach both has incredible benefits for quieting the chatty mind and teaching you to observe, listen and respond to your body. I am always banging on, 'If something doesn't feel right in your body, don't do it!'
Moving your body is essential for your vitality and longevity. None of us wants to get old, but we will get old (if lucky). That doesn't mean you need to get frail. Most of my clients are over 60, the look, move and feel about 40 (or younger). But they feel it in their bodies when they haven't been getting to class. They understand and feel the benefits of regular exercise (physically and mentally).
My timetable for live online classes
Tue 10am Gentle Pilates
Wed 10am Relaxing Yoga
Sat 10am Posture Pilates
If the classes don't suit you, I have my on-demand library for you to access a class at a time that suits and a duration that feels right for you (classes are as short as 10mins and as long as 90mins) .
CLICK HERE FOR LIVE ONLINE CLASSES
CLICK HERE FOR ON-DEMAND LIBRARY
If you are not sure about a class, I offer 1:1 sessions at my private home studio in Springburn click here to book a free, no-obligation chat about how I can help >>> https://bookme.name/iamjenwilson/11-consultation