From the Ground Up FEET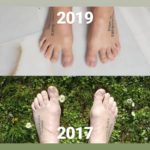 If you love getting geeky and exploring your body and how it moves, this event is for you!
Nearly all of our movement starts from the feet.
These amazing structures at the ends of our legs are not only fascinating but totally under estimated, under valued and often under cared for.
If you have ever been to one of my classes we ALWAYS start with foot work.
The bottom photo (with my feet on the grass) was taken in 2017, the top photo was taken in 2019. My feet are stronger, have more mobility, are more adaptable…
What has that meant for me?
My niggling knee is no longer niggling
My hip pain has gone
I can comfortably sit in a low squat and it feels like a rest there (see photo in the event)
My balance is better.
Since I started learning about feet, being barefoot, the importance of agile, mobile, strong feet back in 2010 I brought it in to class. I have never stopped going back to books and signing up for courses to learn more (and I haven't stopped).
In this workshop we will:
understand our feet better
mobilise our feet (and ankles)
work on strengthening the feet
reconnect with the amazing abilities of the feet
get a 2 minute daily routine to moblilise your feet
learn how having more mobile, stronger feet can help us:
move better all over,
get stronger faster (especially if you like to lift weights in the gym), move lighter and easier,
improve general flexibility,
help improve posture
Join me at this workshop.
Investment only £22 (inc fees)
29 Feb 2020 2pm-4pm PAY HERE 
14 Mar 2020 2-4pm PAY HERE
6 Week Pilates Beginners Course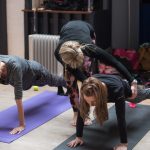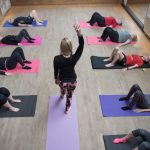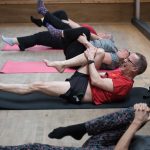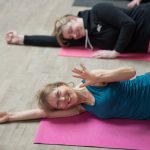 Improves posture, strength, eases back pain, can help with sciatica, flexibility, helps improve your ability in other activities (all the top athletes included Pilates in their training programmes)
I sent a survey out to my class to ask what they liked best about the class… The top results:
Teacher (that's me

Jennifer Jen Wilson

)
The chat – class should be fun, life outside is serious enough thanks
The other participants – we are a very welcoming family
The variety of exercises – that should be included somewhere!
I also asked them what would they say to encourage someone to come along…
'How amazing you feel. Especially Saturday morning after a tough week at work, any tension headache clears and it's a great start to the weekend.'
'Jen is the best exercise teacher I've ever had'
'You get a great sleep afterwards'
'A class good for body and soul'
'Jen is amazing!! Best teacher Iv ever come across'
'Such a warm and welcoming class suitable for all bodies. Super friendly bunch attend.'
'Gentle exercises to improve your fitness levels.'
'Relaxed, friendly, positive Jen's knowledge is extensive and can always alter the class to suit anybody's ability!'
'Great teacher, patient and understanding. Adapts class to needs on the day. Friendly environment. Lovely class mates.'
'Positive vibes. Jen is flexible in working with each individual to suit their needs. Relaxing environment'
'It is a very welcoming and friendly group of people.'
'to get fit flexible and actually start to see visible results if you keep with it on a regular basis!'
'It's friendly, not too advanced, relaxed and enjoyable.'
'It's friendly. You work to your abilities'
'It's as comfortable as being at home and with no judgement. It's a very relaxing and friendly environment along with many different exercises'
'Friendly, bespoke Pilates, tailored to suit all needs and abilities.'
Now I have convinced you to join us…
The 6 week course includes:
Weekly Saturday 10am class at SDTA, 101 Park Rd (just off Woodlands Rd) from Saturday 15th Feb 2020
6 week access to my app that has technique video's and mini sessions for you to practice at home.
Weekly Monday 7-8pm class at I AM Jen Wilson HQ, 67 Lenzie Way, Springburn from Monday 3rd Feb 2020
Spaces are limited so book early to avoid disappointment.
If you are signing up for the Saturday class, you will be joining the regular Saturday morning group and we can accept only 6 new members to the clan at this time. The Springburn class on a Monday we can only take 3 new members to the clan as we can only take a max of 5 in that class.
Book Your 2020 Events Here
Saturday 28th March 10-11am 6 week Pilates Beginners Course Glasgow West End BOOK HERE
Monday 23rd March 7-8pm 6 week Pilates Beginners Course Springburn BOOK HERE
Saturday 29th Feb 2-4pm From The Ground Up – FEET BOOK HERE 
Saturday 14th Mar 2-4pm From The Ground Up FEET BOOK HERE
If you wish to direct transfer funds via the bank, please contact me jen@iamjenwilson.com for bank account details.
Missed a start date? Please don't stress and contact me to see if there is still space and we can adjust your start date
Got a question before you book? Ask here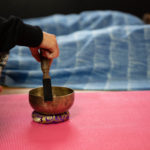 Reconnecting Session Mini Retreat 
Do you feel totally disconnected from your own body, mind, decisions, life? Have you been disconnected so long that you have no memory of being connected?
Do you find you constantly say yes to everyone except yourself?
Do you have aches and pains in your body that you have no idea how they got there or what you have been doing?
Do you feel like you zombie your way through the day?
Do you make decisions based on what you think you should do or to make your life easier by pleasing other people?
If you answer yes to any of these questions then you should get booked in for a reconnecting mini retreat session, if you answer yes to more than half of these questions then you NEED to get booked in for a reconnecting mini retreat session. You NEED some time out, just for YOU!
What to expect:
Small group, max 5 participants

A reconnecting movement master class

Breathwork

Yoga Nidra (guided meditation)

Herbal tea & water throughout the session

A guided meditation audio (emailed after the session)
Reconnect and Reset Retreat Day
Kickstart the New Year by reconnecting and resetting your body, mind and soul.
Leave the stresses and strains of 2019 behind. Start the year with intent on continuing 2020 feeling refreshed and motivated to live a balanced and healthy lifestyle.
Join us for a full day nurturing retreat day where we will focus on reconnecting yourself through movement and breath work and focusing on how we reset the body, mind and soul though nutrition and energy work.
Join me, Jen Wilson, Warrior Woman Project and Hailey Thomson, Your Health Angel as we take you through a day of Yoga, Breath Work, Meditation, Intuitive Eating and Energy Work.
Agenda for the day:
10am Welcome and introductions
11am Movement and breath work
1230pm Lunch (included)
115pm Intuitive Eating
2pm Yoga Nidra (guided meditation)
245pm Group Healing
315pm Tea & Snacks, Q&A
4pm Close
DATE AND VENUE TBC
The first 10 tickets are at the early bird price of £97. Full price £129