Join the FREE 7 Days Sit Fit Challenge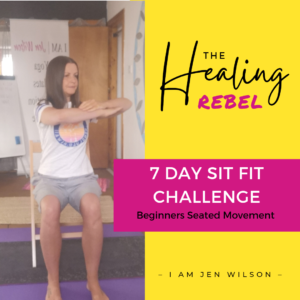 This is for you if you are coming back to fitness or movement from injury, illness or have mobility issues where standing or lying down just isn't for you.
Over the years (I have been working in this industry since 2009) I have had the privilege of working with people who have had knee or hip replacements, MS (I also do work with the MS Society), Fibromyalgia, ME/CFS, Arthritis, Lupus, Osteoperosis, Hypermobility and I myself have Crohn's.
It can feel really limiting and isolating feeling like you think you can't join in. This Sit Fit Challenge is here to show you what is possible. Always listen to your body and do what feels right for you.
Over 7 days you will get an email with a new video. Remember to check your junk mail if you don't see the emails drop into your inbox. Let me know if there are any issues.
Enjoy x