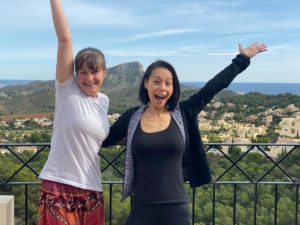 Meditation, Yoga, Pilates, Intuitive eating, a space for loving You, and giving space to You.
How would it feel to invest real time in yourself?
Picture feeling relaxed, refreshed and recharged – perhaps for the first time in a long time.
Imagine giving yourself the permission to accept help and (gasp!) allowing someone else to do everything that needs to be done so that you can further develop your understanding of the need for self-love and self-care.
You can achieve all of this and more at the Reconnect and Reset Retreat.
We invite you to join us for four days of bliss.  
2021 dates TBC 
Early bird price £649, deposit to secure £100
Balance due 8 weeks before event. Non refundable deposit. Full price £749. 
Imagine how it would feel to turn your back on stress, teach yourself to sleep better so you can deal with those stresses better.
Got a question you want to chat to me about on Facebook Messenger? Click HERE to chat.
This is exactly what you can achieve when you join us on this retreat.
I WANT TO SAY NO TO STRESS
Not only that, you will leave the retreat armed with many useful habits and rituals that you can revisit and continue to benefit from on your return home.
Tell Me More ….
We will be staying in a beautiful villa (with private pool) at the luxury La Manga Resort in Murcia, Spain (around an 90mins from Alicante airport) with access to Club La Manga facilities (additional charges for treatments and use of the facilities are paid locally).
This is an exclusive retreat, which means that spaces are extremely limited.
'Thanks for a lovely weekend! Really enjoyed it and feel so relaxed and refreshed' – Rebecca
We want to give you our very best attention so that you get the most out of this special time and leave feeling relaxed, recharged and refreshed.
You are officially relieved of all cooking duties so you can relax and enjoy delicious, vegan friendly nutritious meals, specially prepared by our private chef Hailey (3 breakfasts, 3 dinners, 2 lunches and snacks) and all non-alcoholic drinks are included.
There will be a wide range of Meditation, Yoga, Pilates, Breath Work and group conversation sessions, giving you regular opportunities to relax, recharge and care for your body and soul. Should you wish to invest further, there is also the option to book additional, tailored 1-2-1 sessions during your stay.
'Thanks 

?

 for an amazing time and experience 

?

?‍♀️

?

?

?' Eleanor
No event is complete without an amazing goody bag and this retreat is no exception! You will receive yours on arrival at La Manga Resort.
Are You Ready To Invest In Yourself?
2021 Dates TBC 
Is This Retreat For Me?
Does this sound familiar?
I spend most of the year

running around after other people

I feel exhausted and

desperately need some time out

I want to feel looked after for a few days in order to

'fill my cup back up'

and feel at my best so that I can look after myself and others better when I return home

I'm ready to make a change to my life so that I can feel

healthier and happier for the long term
Then yes! This retreat is just what you need.
Complete the form below to chat about booking your space
Itinerary
You are welcome to arrive anytime on Friday (I will be there from the Thursday in plenty of time to set everything up and welcome you from the moment you arrive) and we will gather to enjoy our first dinner together on Friday evening. 
Each morning will begin with a Meditation and Yoga practice around sunrise to open and awaken the body, followed by a healthy breakfast.
You will have some free time after breakfast to explore, relax, read, nap before the pre lunch Pilates session.
A tasty lunch will be prepared each day by our chef Hailey and we will spend time discussing nutrition and easy healthy eating, arming you with tips so that you can fit this into your life with ease on your return home.
Each afternoon you will have the opportunity to enjoy relaxing by the pool, visiting the local beach, reading, napping, drawing, writing and connecting with your fellow guests.
Late each afternoon you will enjoy a Yoga session before enjoying a delicious dinner.
After dinner we do our final Yoga Nidra (guided meditaiton) session of the day then you do whatever feels right for you – whether that be tea and chat, restful sleep, even star gazing.
Before departure on Monday, we will have our final group morning Meditation, Yoga and breakfast (for those whose flight times allow). 
SOUNDS AMAZING, SIGN ME UP!
2021 dates TBC
Travel Tips
You are responsible for your own travel including:
Flights – flights to Alicante Airport are available from most UK airports with many of the holiday and budget airlines.  From London there are flights in to Murcia

Airport Transfers – a private transfer from Alicante would cost around £130 each way, in previous years we have found car hire a better option. Where possible we can offer shared transfer for £30 return. Please contact us to discuss, this will be limited due to numbers and flight times. Also, we will collect people's arrival flight information to try and co-ordinate shared cars. 

Travel insurance – we would never advise you to travel outside the UK without suitable travel insurance in place, please make sure your insurance has appropriate medical and cancellation cover.
MEET YOUR HOSTS Jen & Hailey
Hi, I'm Jen Wilson, Author, Bodyworker, Urban Hippy, Founder of Warrior Woman Project® and your retreat host
I'm passionate about living a healthier, happier life through self-love, self-care and self-reflection and I'm ready to guide and help you find your way to achieving exactly this.
I founded the Warrior Woman Project® in 2014 after a completely turning my own life around (moving home from living overseas, launching a new career, and going through a divorce all at once) and later learned the true importance of listening to and loving your body after being diagnosed with Crohn's disease in March 2017. 
I know what it feels like to be spinning too many plates and what it means to burn out, I have been working with clients for over a decade now bringing better balance in to their lives.
Hailey is our private chef throughout the retreat. Her mission is to make healthy eating easy for everyone and to guide people through their own health journeys. Hailey will encourage you and educate you in how to ditch your diet and eat wholesome food which is what she will be cooking up for us during the retreat.
As a busy mum of 2 Hailey knows the challenges of trying to run a home, a business and make healthy food that everyone will eat.
Hailey was a regular chef guest on STV2 show Live at Five.
FAQ's
Are there any private rooms available?

At the moment no, the villa we have sleeps 10. If you are really certain that you don't want to share, please get in touch to discuss the possibility of paying an additional supplement.

Should I come with a friend or can I come alone?

We welcome all women, whether you are flying solo or bringing a friend or family member. Rooms are shared, so just be prepared to be your open, friendly self and welcome your existing or new friend into your space.

I have special dietary requirements (eg allergy, vegan, diabetic) will I be catered for?

Yes, we welcome everyone. We will be sending out a questionnaire in advance of the retreat in order to get as much information as possible so that we can cater to your needs. If you have a severe allergy, please

get in touch

before making the booking so we can have a chat to make sure that we can accommodate your needs. All meals will be vegan based. There will be eggs and dairy available.

Can I cancel my booking?

Please see our

cancellation policy for full details.

All deposits are non refundable.

I am not fit or flexible… and I struggle with meditation…

You don't need to be fit, flexible or experienced with meditation to benefit from our retreat. All sessions will all be adapted to be suitable and inclusive for all. If you don't want to participate in any of the sessions for any reason that is fine too. Every part of this retreat is designed to allow you to honour yourself and your needs. All sessions, including Meditations, will be guided and timed. We will teach you everything you need to know.

What is the cost for additional and 1-2-1 coaching?

£75 per session

How can I book in for the coaching sessions?

Details of availability will be when we are on the retreat in Spain and all sessions are subject to availability.

I see non-alcoholic drinks are included… are we allowed to drink alcohol?

You are an adult and if that is what you really want to do that is your decision. However, it's worth keeping in mind that the aim of this retreat is to relax and refresh, returning home feeling fully recharged. Alcohol has scientifically been shown have a negative impact on all of these aims, which creates stress and inflammation in the body. You won't be able to participate in any of the meditations, classes or workshops if intoxicated. It is also worth keeping in mind the other guests, non-drinkers often feel uncomfortable around people they don't know who are drinking and we want to keep everyone as stress free as possible. The retreat is inclusive and 3 nights booze free shouldn't be a problem.  
Have more questions? Complete the form below
Before making a booking please read through the RETREAT CANCELLATION POLICY