The Healing Rebel 
Revised & Better!

Life had been bloody tough the last couple of years and health: mental, physical, spiritual (whatever that means to you) should be the priority of YOU.
Feeling congested, sluggish, exhausted? I can teach you how to get your internal drainage system (your lymphatics) working efficiently.
Do you always feel stressed, anxious, overwhelmed? I can teach you how to find your breath and take a pause.
Have you heard yourself say you have terrible balance, sore feet, plantar fasciitis? Can you hear you coming before you are seen (heavy footed or a shuffler)? I teach you how to build strong foundations with foot strength and mobility.
Are you sitting for long periods of your day? Sitting is the new smoking when it comes to the negative impact on your health!! I teach you how to reset your posture and build strength in your postural muscles. 
If you have a health condition, did you find that it was harder to manage the last couple of years? I can share the best things I have done to help you improve your health. 
I live with a condition called Crohn's since being diagnosed in 2017 I have been making changes to my life. 2020 & 2021 were still tough! Getting rid of the things that make life feel heavy and exhausting, removing the things that don't fill me up with energy and lightness became a priority. 
'If you don't change, you don't change.'

YOU CAN DO IT!
Looking after your health isn't a linear process, so I am not going to make that promise. But, you will see progress if you are listening to your body, consistent with action and adaptable when needed.
Having the right people in my corner, supporting me, educating me, being my rock to lean on is what has helped me. We need each other, this journey is tough, too tough to go it alone.
I want to be in your corner, helping you on your health journey. I will share what I have learned and am learning with you what's relevant to your situation.
How I Can Help
For 2022 I have revised The Healing Rebel Course. The original health and well-being course had 10 modules, and the feedback was you were feeling overwhelmed and not sure where to start and ended up not getting started.
That doesn't work.
So, I have tried, tested and streamlined THE most important 4 modules and walk you through them, holding your hand all the way. Each module links into the next, the build onto each other. 
You will then have the option to add on either pick and mix or buy the bundle of the additional modules.
There are a few ways to get yourself started:
Book a 1:1 The Healing Rebel 1 hour coaching session (£99), we have a chat about where you are at and create a plan of your next steps forward to get you motivated, inspired and taking action. Please note, this does NOT include access to any of the modules. CHECK AVAILABILITY FOR YOUR THE HEALING REBEL 1 HOUR COACHING SESSION HERE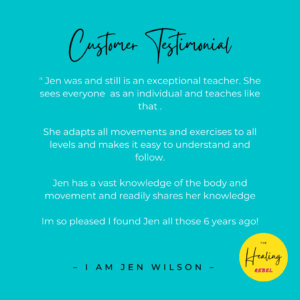 Love Your Lymph

Power of

Breath & Breathing

 

Foundations: Foot Mobility & Strength

Posture Reset 

 

BONUS Guest teacher training: Janice Clyne – Gut Health, Jacq Munro – Tapping and Amanda Trainer – Mrs Brain Trainer, training the brain
BONUS 30 Pilates, Yoga & Meditation sessions 10mins – 90mins  
Back To Basics – The Healing Rebel Self Study
Additional Modules Pick & Mix £37 each or Buy the Bundle for £97
To buy the individual module, just click on the name of the module below.
You have lifetime access to all the module content and any updated content will be made available to you.
For details of my regular live online via zoom or in person in Springburn, Glasgow Pilates and Yoga classes go HERE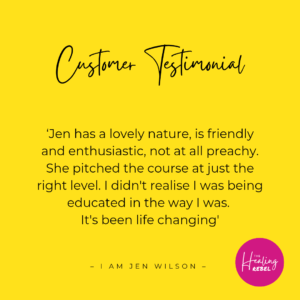 1:1 Mentoring Package 
Self paced courses are great, you work in your own time that's convenient for you BUT many of us struggle with accountability and that is where the mentoring packages can help.
How It Works:
I am there to support you on your journey, help you implement the lessons, check in to see how you are doing, work with you to set your goals. We do this with our pre arranged calls up to 1 hour (total 4 calls), plus messaging via the app in between to check progress, and answer questions (in pre agreed office hours).
 

What Does It Cost?
Working with me 1:1 for 4 weeks £750 or if you need to pace yourself we can work over 8 weeks £1250. 
Includes
4 x up to 1 hour mentoring call.

Full access to all modules with tailored direction to focus on your needs.

Journal to keep you on track.

Email/messaging service direct to me to answer any questions for the duration of your mentoring

Regular check-ins from me to help hold you accountable 
How Do I Apply?
All you have to do is complete the application form. I want to be 100% sure that we are a right fit for each other. I want you to feel amazing and get the results you are looking for, as I am sure you do too!!
Never has there been a better time to take control of your health
With this programme you WILL be able to:
Detox and support your lymphatic system for better health, immunity and movement

Connect with your breath and use different techniques to calm or stimulate your nervous system

Build strong foundations by connecting to your feet and building strength from the ground up

Work with your posture to reset, strengthen and support allowing you to move and feel better

Feel healthier and happier
This programme is NOT:
A weight loss programme (but weight loss may be a side effect)

A fitness programme (but improved fitness may be a side effect)

For anyone who is comfortable with their excuses

A substitute for medical advice but can enhance and offer additions to improve your health
Group Coaching
More information coming soon – Next start date 3rd Sep 2022