All sales from my book through these links, £5 each sale will got to Team Daniel, raising money for his new wheelchair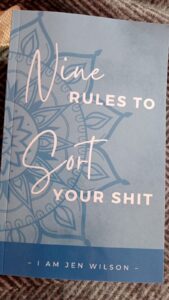 AUDIOBOOK https://bookme.name/iamjenwilson/9-rules-audiobook-team-daniel-charity
PAPERBACK https://bookme.name/iamjenwilson/9-rules-paperback-charity-donation 
Unleash Your True Potential with 9 Rules to Sort Your Shit!
Life can get messy, and we all need a little reminder now and then to steer us in the right direction. That's where "9 Rules to Sort Your Shit" by Jen Wilson comes in. Jen, the author herself, knows to honour these rules whenever life throws her a curveball. And guess what? Her friends have even started quoting her advice back to her!
This book isn't about reinventing the wheel; it's about offering you the kind of advice your best friend would give. Jen Wilson knows what it's like to navigate life's ups and downs, and she's here to let you know that you're not alone. Her easygoing and relatable style encourages you to be kind and curious as you discover your path.
In "9 Rules to Sort Your Shit," you'll find more than just a guidebook. Jen shares personal stories, practical wisdom, and a genuine desire to help you embrace your potential. This isn't about following a strict formula—it's about embarking on a journey of self-discovery that will leave you feeling empowered and ready to face whatever life throws your way.
Grab a copy of this remarkable book if you're ready to transform your life and sort your shit. Let Jen Wilson be your trusted companion as you uncover the 9 essential rules that will guide you toward a life filled with growth, fulfilment, and genuine happiness. Together, let's sort our shit!