Pilates & Yoga Classes
Beginners Course September 2022
It can feel intimidating joining a class where people have been coming along for some time. Some of my class participants have been with me now for 10 years!!! Which I am eternally grateful of, and we love to welcome new participants to Pilates. We know the benefits of Pilates, and want you to experience it too! 
I understand that being online isn't for everyone, especially if you are not sure what you are doing. When you are in the room with me, I can see you, offer options in the moment and you can ask questions. That's why along with online, I also offer classes in person at my home studio in Springburn. 
I can set the space up so I am online and in person at the same time. Great for you to have the options. The Pilates room in my home can take a maximum of 4, so booking is ESSENTIAL. 
Going back to my point about feeling intimidated about joining class, every year around this time I go back to basics and run a Pilates Beginners class (as part of my regular timetable) so anyone new doesn't feel left out or left behind. It's great for the regulars to get back to basics and review and refresh their technique – I will also be adding in some new 'core' exercises that will be brand new to them too 🙂 . 
The new 'core' exercises are particularly useful for anyone with osteoporosis, bulging disc, prolapse, crohn's, colitis, IBS, endometriosis or has ever had a cesarean!  
If you or anyone you know is looking to start Pilates, now is the time to get booked in. In the studio I will only be able to take a max of 4 so be quick with your booking. There will be options for anyone who wants to work from a seated position, rather than being down on the floor too. 
Early bird booking until Sunday 14th Aug for the 4 week course is £45 this included your weekly class, access to the other 2 classes on my timetable PLUS beginners technique video recordings and a couple of beginners short session video recordings (which you get access to as soon as you book) AND you will also get a copy of my Pilates Fundamentals ebook (paperback version is available to buy on Amazon HERE)
If you want to attend in person, please email jen@iamjenwilson.com first to make sure there is space before you book. 
BOOK Pilates Beginners Sat 3rd Sep 2022 HERE
Class Pricing
£15 Multi Class Pass (1 week up to 3 classes)
Best Deal £40 per month for up to 3 classes per week plus recordings for you to do in your own time on my down weeks. No contract so you can cancel (and rejoin) at any time.
Multi Class Pass (1 week, up to 3 classes)
Class Subscription (pay monthly)
2022: The following weeks, classes will be recordings rather than live classes:
27th Aug – 2nd Sept, 29th Oct – 4th Nov, 18th Dec – 8th Jan 2023
TIMETABLE NOT SUIT? GO ON DEMAND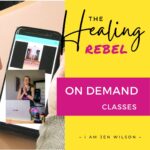 I HAVE CREATED A BRILLIANT BUDGET FRIENDLY ON DEMAND CLASS BUNDLE PACKAGE OF 5 x Pilates classes, 5 x Yoga classes with a BONUS 3 x Guided Yoga Nidra Meditations for only £22
BUY HERE On Demand Class Bundle
Bundle Includes:
Lifetime access to all content
5 x Pilates Classes: 24 mins gentle practice, 55 mins focusing on spine mobility, 55 mins beginners class, 57 mins gentle morning class, 56 mins strengthening class
5 x Yoga Classes: 28 mins gentle movement, 57 mins dynamic hips, 57 mins spine mobility, 26 mins movement with Sun Salutation, 90 mins session: 60mins Yoga + 30min yoga nidra
BONUS 3 Yoga Nidra Guided Meditations 12 mins ,25 mins, and 28 mins for deep relaxation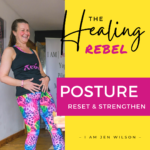 I HAVE ALSO CREATED A

POSTURE RESET & STRENGTHEN BUNDLE

with 7 x mini posture reset mobility sessions, 4 x posture reset classes, 1 x reset & relax session AND a posture project master class, all that for a super budget friendly £29
BUY HERE Posture Reset & Strengthen
Bundle Includes:
Lifetime access to all content
7 x 7mins (or less) Mobility Sessions
4 x 55mins Full Posture Reset Classes
1 x 30mins Reset & Relax Session
1 x 50mins Posture Project Master Class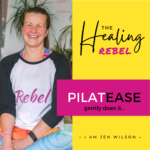 PILATEASE – Gently Does It, Let's Get Started BUNDLE
 with 8 x sessions to get you moving for £25. Starting exercise, coming back to exercise after illness or injury or doing exercise when you live with a chronic illness can feel daunting. I have created this PilatEase programme to help you make a start. Sessions all have options to do the exercises seated, with some of the exercise options to be standing or lying down – you do what feels right for you on the day.
BUY HERE PilatEase – Gently Does It, Let's Get Moving
Bundle Includes:
Lifetime access to all content
1 x 24min Pilates Gentle Session
7 x 40min Mobility & Gentle Movement Sessions: Options; seated, standing & lying
I get it, I have done this myself, signed up for a subscription with the best of intentions, except, I never quite get round to taking action… Hands up all the gym members that are paying every month and not set foot in the place!!
Having someone checking in with you, holding you accountable is THE BEST way to help you succeed. So why not have me drop into your ear to help?
We arrange the days and times you plan to do your sessions and we schedule me leaving a voice note or sending a message (which you get to reply to) checking in… I am even there to answer any questions you have during set 'office hours'.
Your personal accountability buddy for only £35 per month (no minimum contract, cancel at any time). 
I love working with women 40+ who struggle with aches and pains in their body. If there is a way to help you move with more ease and less pain, I will do everything I can to help you.
Over the years I have worked (and still do work with) clients in Pilates & Yoga classes or 1:1 sessions to help rehabilitate from injury or surgery. I also help people who have had knee and/or hip replacements, scoliosis, osteoporosis, arthritis (rheumatoid, psoriatic and osteoarthritis), frozen shoulder, bad backs, bad knees, nerve damage, MS, Crohn's (I have been given this diagnosis myself), hyper-mobile, recovering from broken limbs, or generally feeling old in their body…
Participation
Participating in Pilates & Yoga can be adapted for almost anyone. It doesn't matter if you can't get down on the floor, lie on your back, front, or side. I can give you options to do the exercises seated in a chair or standing up. Pilates and Yoga can be suitable for pretty much any participant.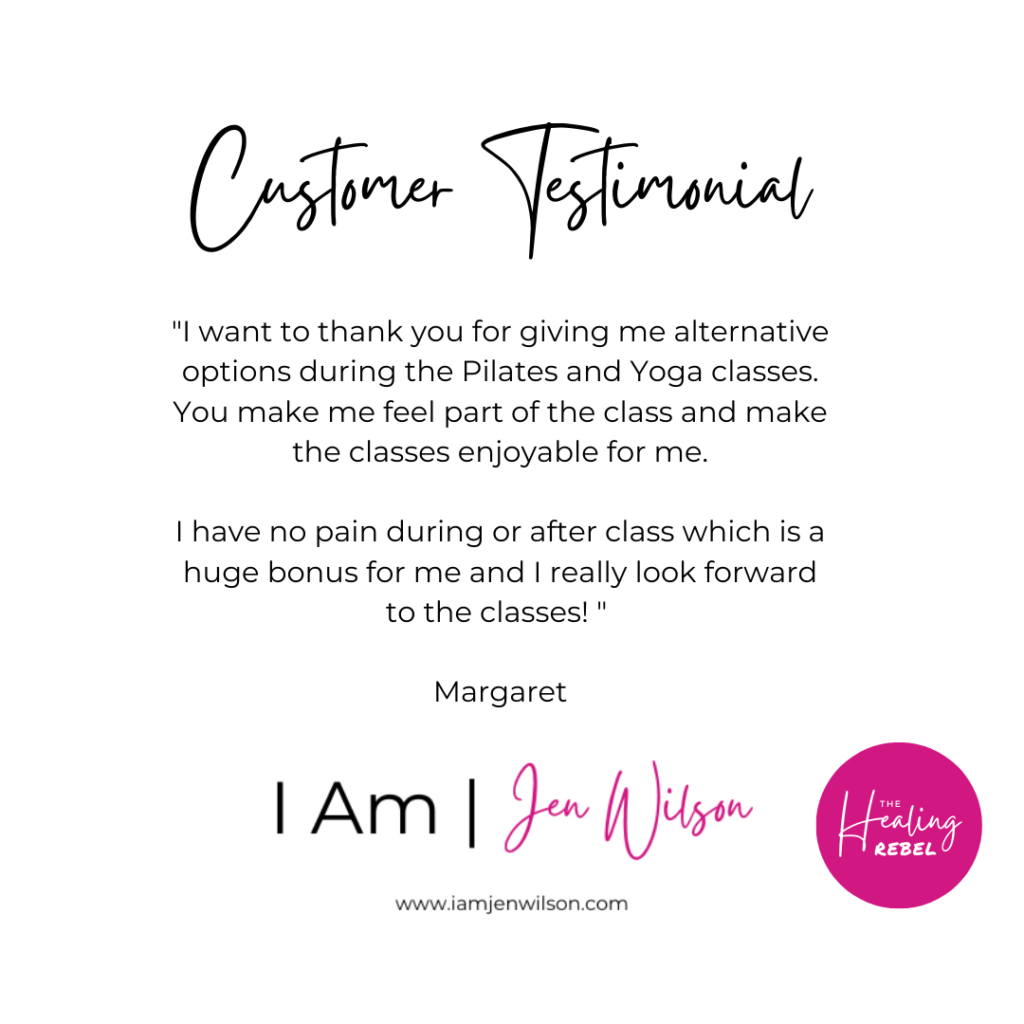 BOOK & PAY FOR YOUR CLASS
PILATES CLASSES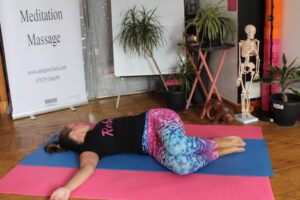 The benefits of Pilates classes include; strength, balance, flexibility, moving your body in all the directions you can. Pilates classes are excellent for helping you improve your posture, strengthening and supporting your joints, helping you get more mobile and building confidence in your movement.
YOGA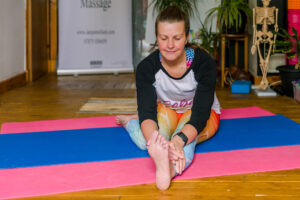 Yoga here in the West has been stripped back a lot from it's true essence of it being a way of life. When I am teaching class I try to incorporate as many of the aspects of the tradition as I can; we start every class with some grounding, breath work practice to bring you into your body. Then we move into our movement practice and I very much deliver a class depending on who is in front of me and what is going on in their bodies and tailor the session to help. We then finish off class with a guided meditation. There is an ongoing inquiry into how each movement feels within your body, how your breath is feeling and what feels good and encouragement to move away from what doesn't feel good. 
The benefits of Movement & Meditation (Yoga): flexibility, balance, moving your body in all the directions you can, relaxation. Yoga classes are excellent for helping you notice your body, help free up unnecessary tension, move with curiosity, reconnecting to your breath and body.
Want to know more about the differences between my Pilates & Yoga classes? Check out my blog post HERE
ABSOLUTE BEGINNER? GET STARTED
Both my Pilates & Yoga classes are suitable for beginners. With Pilates there are more technical considerations so if you are not familiar with your 'core' or 'pelvic floor' I would recommend we do a 1:1 to go through the basics or you could sign up for my Pilates Fundamentals online course
I have also written a book with the details of the fundamentals course written out for those of you who prefer a book in your hands you can get your copy of that HERE
PILATES FUNDAMENTALS ONLINE COURSE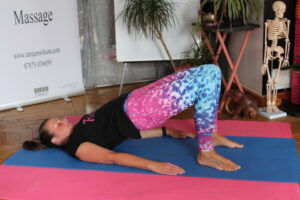 Module 1: Feet mobility, foot placement, muscle activation, breath, neutral spine, pelvic floor, core engagement, basic set up standing, lying on your back, lying on your side, lying on your stomach, kneeling table top.
Module 2: Introduction and different options and adaptations of the fundamental exercises I commonly use in class: Single leg slide, shoulder bridge, table top, single leg stretch
Module 3: Introduction and different options and adaptations of 20 of the fundamental exercises I commonly use in class: Bicycle, crunch, double leg stretch, back extension, scissors, leg circles
Module 4: Introduction and different options and adaptations of 20 of the fundamental exercises I commonly use in class: Hundreds, half roll back, roll up, superman, side lying, plank
Modules 5-6: Basic beginners class  
Bonus Modules Pilates with equipment (activation band, gym ball, Pilates ball) 
Not sure about joining a class? No problem, I offer 1:1 sessions as well online via zoom or in person at my private home studio in Springburn, Glasgow (only 8mins from the M8 or the M80). Please contact me jen@iamjenwilson.com to discuss your requirements or get booked in.   
All Pilates & Yoga classes and 1:1 sessions are now live online through Zoom or in person at my private home studio in Springburn, Glasgow, G21. 
Bookings made via text/call 07875 036659 or email jen@iamjenwilson.com