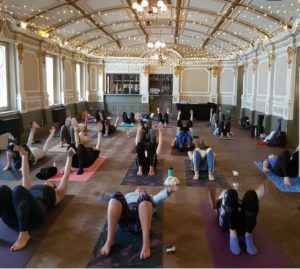 Corporate Well-being Events
Corporate Yoga Well-being Sessions – Does your team need help with their stress management?  Is your team getting weary, losing motivation? Are you working them really hard and pushing them to their limits? Have they been working towards a big goal and deserve a special thank you to help them recharge? 
A Corporate Yoga Well-being session could be just what your team needs to help them recharge and recover. 
Early morning Yoga & meditation, lunch time sessions, corporate half day, day & weekend retreats available on request. All can be booked as one off or as 4, 6, 8 or 12 week blocks. 
Have you got staff that are inflexible/immobile/unfit? Not a problem, nearly all movement sessions can be adapted. Every body that moves can do Yoga. 
Have you got staff that don't think meditation is for them or struggle to meditate? No problem, there is a wide range of different methods to try, we will work with them to find a way that suits them. 
All the sessions are delivered by experienced, knowledgeable and reliable coaching with me, Jen Wilson and focus on them being friendly, understanding and welcoming.  
How Does Yoga Benefit The Corporate World?
Employee well-being should be high on the list of priorities within any company – no employees, no company. More and more companies are recognising the benefits of looking after their staff from reduced sickness, higher retention rates and increased productivity. Improving the health and happiness of staff is a win win.
Corporate wellness programmes benefit both the employer and the employee. When an employee is empowered to improve their health and well-being, motivation increases as they feel valued, sickness goes down, productivity goes up, staff turnover goes down.  Conradie et al (2016) concluded in their research, that supporting a culture of health and well-being 'provides a financial advantage'.
The Workplace Wellness Programs Study conclude that wellness programmes assist in increasing healthy behaviours of employees that helps reduce lifestyle related illness. Specifically there was a study done with NHS staff where they were put on an 8 week Yoga programme and over a 6 month period only 2 days of work were missed compared to the control group where 43 days were missed due to muscular health problems.
In other studies it has shown that creativity has steadily decreased since 1990 when the internet became available to the public, the link between distraction and connecting to our inner self is where we are losing creativity. Businesses that have a creative thinking workforce are shown to thrive, you just need to look at apple, Google and Facebook to see examples of successful adaptable businesses thriving in creativity.
To connect with our inner creative self we need to create a space to quiet the mind which allows connection between body, mind and soul.
With the increase in mental health related illnesses and government initiatives funding more mental health programmes (although still insufficient to meet demands with NHS Scotland as of June 2018 meeting the 18 week waiting time target at 76% – that's providing the patient meets the criteria to get on the waiting list). It would be in corporate businesses interests to include broader spectrum wellness in the health and wellness benefits. While medical, dental, optical benefits are excellent, additional benefits of having access to regular movement, meditation and mindfulness services are beneficial and can reduce the incidence of the use medical policies.
My name is Jen Wilson, self-published author of Become a Warrior Woman, 9 Rules to Sort Your Shit, Body, Mind & Soul Coach and creator of Warrior Woman Project® workshop, courses and podcast.
Over the last couple of years I have been working with more and more people in and around Glasgow dealing with stress brought about from over committing themselves to putting everyone else first. Many of my clients by the time they come to me have already been off work with stress related illnesses. I myself have been on a similar journey.
I was diagnosed with Crohn's in March 2017 and had to take the best part of 6 months out from my business. I have learned how to manage my symptoms and work/life balance. I am passionate about helping teach people the tools they need to look after their health, cope better and become more resilient. As someone who lives with managing a chronic illness I fully understand the importance of wellness in work and that catching symptoms and triggers early reduces the impact and speeds up the recover time.
I can offer 1 hour, half day (up to 3 hours) or full day (up to 6 hours) workshops & wellness sessions within the workplace. Each session tailored to requirements of the event. Events can be stand-alone one off events or a block over 4, 6, 8 or 12 weeks subject to requirements and location.
1 hour sessions could be early morning, lunchtime or post work meditation or mindfulness, Yoga or Pilates classes subject to availability and advanced booking. I would be able to deliver these sessions within Glasgow City Centre, Glasgow North and East Dunbartonshire areas.
Half day and full day could incorporate 1, 2 or 3 sessions with different groups subject to requirements. Half day and full day sessions can be outwith the Glasgow area, travel time and cost will be incorporated in to your quote.
The sessions can be tailored to your business and employee needs with the sessions being able to include one or all of the following:
Stress management, posture alignment, breath work, movement patterns specific for anyone spending prolonged periods of time sitting/ working on computers, laptops and phones/ driving, and connecting with creativity through meditation/mindfulness.
Meditation/mindfulness connects the mind and breath, it allows us to connect with our inner creative self, destresses, creates mental resilience, allows for better thought processing, boosts the immune system, encourages better self-awareness, thickens the parts of the brain responsible with memory, learning, emotion regulation and perspective taking.
Pilates is a mat or chair based class that strengthens the whole body and helps posture and alignment. Perfect for anyone sitting at a desk, working at a computer/laptop or on the phone a lot.
Yoga is a mat or chair based class that connects the body and mind with the breath which helps relieves stress, reduces tension in the body and improves balance both within the body and in the mind.
Both physical practices create body awareness and improve the body, mind connection which help with stress management and can be used as a meditative practice for those that find sitting in meditation challenging.
Meditation and Mindfulness, Pilates & Yoga are all fully inclusive practices regardless of previous experience and ability. Jen has experience working with clients with physical disabilities and limitations, depression, anxiety, addiction, eating disorders, children and older adults.
To discuss options and requirements for your business please email jen@iamjenwilson.com or call 07875 036659 or complete the form below