Pilates & Yoga Classes Online & In Person
Women over 40…
Are you needing ways to move your body to ease tension and pain?
Do you want to start feeling healthier?
Is your posture in need of a bit of work?
Are you looking to increase your confidence?
Would you like to bounce on a trampoline care free?
Are you coming back from injury, illness or time off?
Joining class online can really help overcome challenges in getting to class; transport, parking, childcare, time, cost of travel.
If online isn't for you, you can join in person if there is space available – please email jen@iamjenwilson.com to check availability before signing up for in person classes.
The Pilates room in my home can take a maximum of 4, if you are online I need to get the Zoom links emailed out to you, so booking is ESSENTIAL.

Exercise adaptations are useful for anyone with; osteoporosis, bulging disc, pelvic floor dysfunction, prolapse, crohn's, colitis, IBS, endometriosis or has ever had a cesarean! I ensure that everyone in the class has something suitable for them you feel included.
Absolute Beginner? Start With a 4 Week Pilates Beginners Course
If you or anyone you know is looking to start Pilates, a 4 week block is a great place to start. In the studio I will only be able to take a max of 4 so remember to check availability before booking.
To get you started, join up for my beginners 4 week course – £45.
Includes
4 x weekly class

Access to join in with the other 2 classes on my timetable

PLUS On Demand beginners technique video recordings
PLUS On Demand beginners short session video recordings (which you get access to as soon as you book)
PLUS a copy of my Pilates Fundamentals ebook (paperback version is available to buy on Amazon HERE)
**IMPORTANT If you want to attend in person, please email jen@iamjenwilson.com first to make sure there is space before you book.
BOOK Pilates Beginners 4 Week Course HERE
Want to try a class out or don't want to do a beginners block

?
Class Pricing
If you are wanting to join class in person, please make sure you have checked there is space available for you. Joining online you can go ahead and book straight in. Once you have made payment there will be information on how to join class provided and I will also get a separate email to you as soon as possible with all the information on it. If you have any questions or you don't get the information through, please email me jen@iamjenwilson.com
£15 Multi Class Pass (1 week up to 3 classes)
Best Deal if you are doing multiple classes each week £40 per month for up to 3 classes per week plus recordings for you to do in your own time on my down weeks. No contract so you can cancel (and rejoin) at any time.
1 Class Pass – 1 Class Pay As You Go
1 Week Multi Class Pass (up to 3 classes)
1 month Class Pass (recurring monthly payment)
2022: The following weeks, classes will be recordings rather than live classes:
29th Oct – 4th Nov, 18th Dec – 9th Jan 2023

TIMETABLE NOT SUIT? GO ON DEMAND BUNDLES Check out my On Demand Offerings HERE
Who Are My Classes For?
Women 40+ who struggle with aches and pains in their body. If there is a way to help you move with more ease and less pain, I will do everything I can to help you.
Over the years I have worked (and still do work with) clients in Pilates & Yoga classes or 1:1 sessions to help rehabilitate from injury or surgery. I also help people who have had knee and/or hip replacements, scoliosis, osteoporosis, arthritis (rheumatoid, psoriatic and osteoarthritis), frozen shoulder, bad backs, bad knees, nerve damage, MS, Crohn's (I have been given this diagnosis myself), hyper-mobile, recovering from broken limbs, or generally feeling old in their body…
Participation
Participating in Pilates & Yoga can be adapted for almost anyone. It doesn't matter if you can't get down on the floor, lie on your back, front, or side. I can give you options to do the exercises seated in a chair or standing up. Pilates and Yoga can be suitable for pretty much any participant.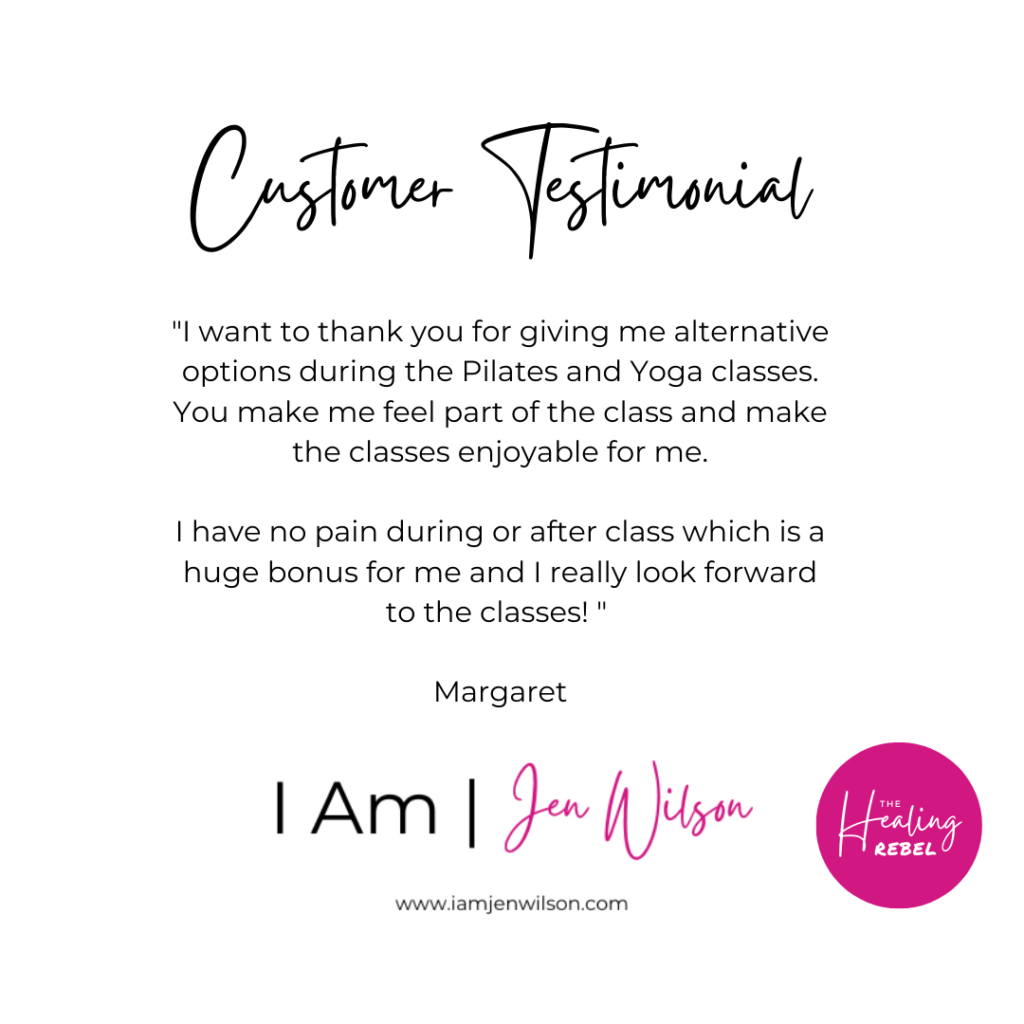 PILATES CLASSES


The benefits of Pilates classes include; strength, balance, flexibility, moving your body in all the directions you can. Pilates classes are excellent for helping you improve your posture, strengthening and supporting your joints, helping you get more mobile and building confidence in your movement.
YOGA CLASSES


The benefits of Yoga: flexibility, balance, moving your body in all the directions you can, relaxation. Yoga classes are excellent for helping you notice your body, help free up unnecessary tension, move with curiosity, reconnecting to your breath and body.
Want to know more about the differences between my Pilates & Yoga classes? Check out my blog post HERE
Not sure about joining a class?
No problem, I offer 1:1 sessions as well online via zoom or in person at my private home studio in Springburn, North Glasgow (only 8mins from the M8 or the M80). Please contact me jen@iamjenwilson.com to discuss your requirements or get booked in. You can also check availablilty & book HERE
All Pilates & Yoga classes and 1:1 sessions are now live online through Zoom or in person at my private home studio in Springburn, Glasgow, G21.
Bookings made via text/call 07875 036659 or email jen@iamjenwilson.com