Pilates & Yoga Classes
Glasgow West End; Woodlands and North Glasgow; Springburn
Timetable
Monday 10am Pilates – Springburn
Monday 7pm Pilates – Springburn
Tuesday 6pm Yoga – Springburn
Wednesday 10am Yoga – Springburn
Wednesday 7pm Yoga & Yoga Nidra Guided Meditation – Springburn (90min class)*
Saturday 10am Pilates – SDTA, Woodlands
Saturday 1130am Parent & Child – Springburn
Booking is essential for all classes as there is a maximum of 6 to a class.
Adults : £10 drop in or 10 class pass £80 (class pass valid for 4 months, can be used at any of my 60min classes including Pilates at home studio and SDTA, 24hr cancellation policy applies).
* Yoga & Yoga Nidra 90min class is£15 drop in or 10 class pass £130 (class pass valid for 4 months, can be used at any of my classes including Pilates at home studio and SDTA, 24hr cancellation policy applies).
Children (under 18's) £5 drop in or 10 class pass £40 (class pass valid for 4 months, can be used at any of my classes including Pilates at home studio and SDTA, 24hr cancellation policy applies).
Bookings made via text/call 07875 036659 or email jen@warriorwomanproject.com or complete the form below
Pilates
'Pilates with Jen is better than a bottle of wine' – Kirsty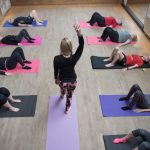 If you spend most of your days sitting, on a computer/laptop, on your phone, leaning over a desk, looking after children, drive a lot… then you NEED Pilates.
What is Pilates?
It is a mat based class that will strengthen, tone, relax, improve posture and flexibility and also helps with physical and mental balance. It can help relieve back pain, neck pain, hip pain.
When you say Pilates to some people you can get a few different responses… 'What is that?', 'Oh, that's like Yoga!', 'that's just lying on a mat stretching', 'that's for old people', 'that's a woman's class', 'I tried that once, didn't like it, it wasn't hard enough'.
'I enjoyed all of the classes immensely, it was something I looked forward to every week as Jen makes it fun and very personal.' – Aoife
I teach it a bit differently. I combine my knowledge and experience of working with lots of different people to create a class that's 'fun' – their words, not just mine. There are similarities between Pilates and Yoga – they are both done on a mat and connect body, mind and breath but for me as a teacher of both, Pilates is about bringing in control and Yoga is about letting go of that control.
'I fully recommend Jen whether it's your mind, body or both that you want to work on. And on top of her skills she's also a caring, encouraging, inspiring and empathetic woman.' – Allison
Yoga
'I've been training with Jen for 18 months. I went to her having been diagnosed with arthritis in my back and hips (I'm only 42) and was in daily pain. Jen targeted areas and has really built my strength. I have no hip pain whatsoever and my back is so much better than it was. She's a joy to work with and I can't recommend her enough. Do it now!' – Isla
We need to move a lot of our bodies a little, instead we seem to move a little of our bodies a lot.
Good news, you don't need a flexible body to do Yoga, you just need a flexible mind.
Yoga is a mat based class connecting body, mind and breath.
The style of Yoga I teach is about moving your body and exploring what it can do at a pace that feels right for you.
There are many impressive and beautiful images of a form of Yoga out there in social media world and I respect the people that can perform these moves with such grace but these gymnastic moves are not something I will be teaching in my classes.
If you spend a lot of your day sitting down then you need to find something that will let your body move in the way it was designed.
You will come to class with the intention to leave  feeling calmer, grounded, free of tension, softer, at ease with yourself and the world.
Yoga for me is not about working out, but working in.
Each class will start with a few minutes meditation, followed by movement, ending with Savasana meditation (sometimes known as 'that bit you lie down at the end')
I personally came to Yoga sporadically over the years but much more consistently in the last 4 years and since being diagnosed with Crohn's in March 2017 have used the practices of Yoga to aid my healing process. I now live with my condition symptom and medication free. I believe that being able to really tune in to my body, listen and respond has helped me heal.
The Benefits of Pilates & Yoga
Improve our posture. No-one want's the old person's hump back, and if you have already started to get that it's not too late, we can work on fixing it. Sitting is the new smoking – it's a killer on the body. Laptop's, computers and mobile technology are also wrecking out posture. It's possible to reverse the damage.
Better flexibility. Everyone who sits at a desk or in a car all day will have a tight lower back, tight hips and probably tight hamstrings… we work on that too. Joseph Pilates says that 'if your spine is stiff at 30, you are old. If your spine is flexible at 60 you are young'. With work you CAN get your body moving better.
A stronger body will help you not only move better, but will help you feel better, give you confidence, and also allow you to de-stress (which strengthens your immune system too). A stronger body is a healthier and happier body.
Your mental health will improve. When you ask people to meditate it is often something they say they struggle with. Put simply or less intimidating, meditation is focusing on one thing to bring some stillness to the mind. Spend an hour in a Pilates or Yoga class where you are asked to focus on your breath and movement and all of a sudden the noise of everything else goes away. The class leave feeling relaxed, refreshed and many report better sleep.
I Am | Jen Wilson has signed Scotland's Mental Health Charter Declaration of Support.
Scotland's Mental Health Charter for Physical Activity and Sport aims to improve equality and reduce discrimination for anyone with a mental health problem, ensuring there is no barrier to engaging, participating and achieving in physical activity and sport.
Body positive self-confidence, we often don't realise what we are capable of and we often compare ourselves to others. In Pilates, we are mostly lying on the floor so you are not comparing yourself to anyone else and the class is all different shapes, sizes and abilities. When you start to get stronger, and start to see your own improvements you will start to balance your body, mind and soul where a natural progression is self-confidence.
Join the family. One of the things that I love about the people that come to my classes is their welcoming, friendly attitude. A new member joined while she was working in Glasgow for a couple of months – someone in the class loaned her their blender so she could make soup! When another member was going through a challenging time with her daughter, everyone was there to offer advice. When I was unwell I was given gifts and looked after. There is a true sense of LOVE in the class.
To book in for a class you can complete the form above or if you have any questions you can fill in the form below